India 2018
A summary of our trip to Rajasthan, Agra and Delhi in India in 2018.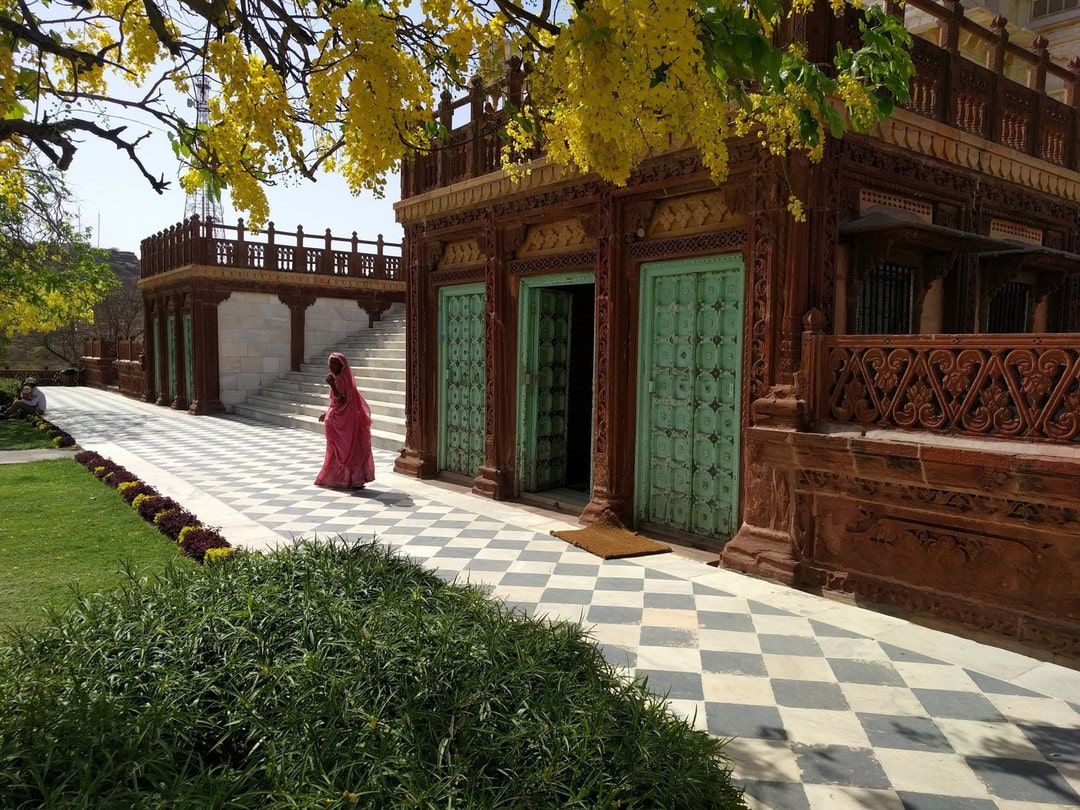 My last post about our trip to the USA was well-received, and with the risk of starting a new tradition, here is a little write-up of our trip to India in April/May of 2018.
Normally April through September is low season in India, the main reason being the heat and/or the monsoon, during our trip temperatures averaged around 40°C when the sun was out, and 30°C at night. However the low season did have some perks, almost no wait times at popular sights and lower entrance fees at some destinations.
The area we visited (Rajasthan mainly) typically has the monsoon starting in July and lasting until the end of August.
The Route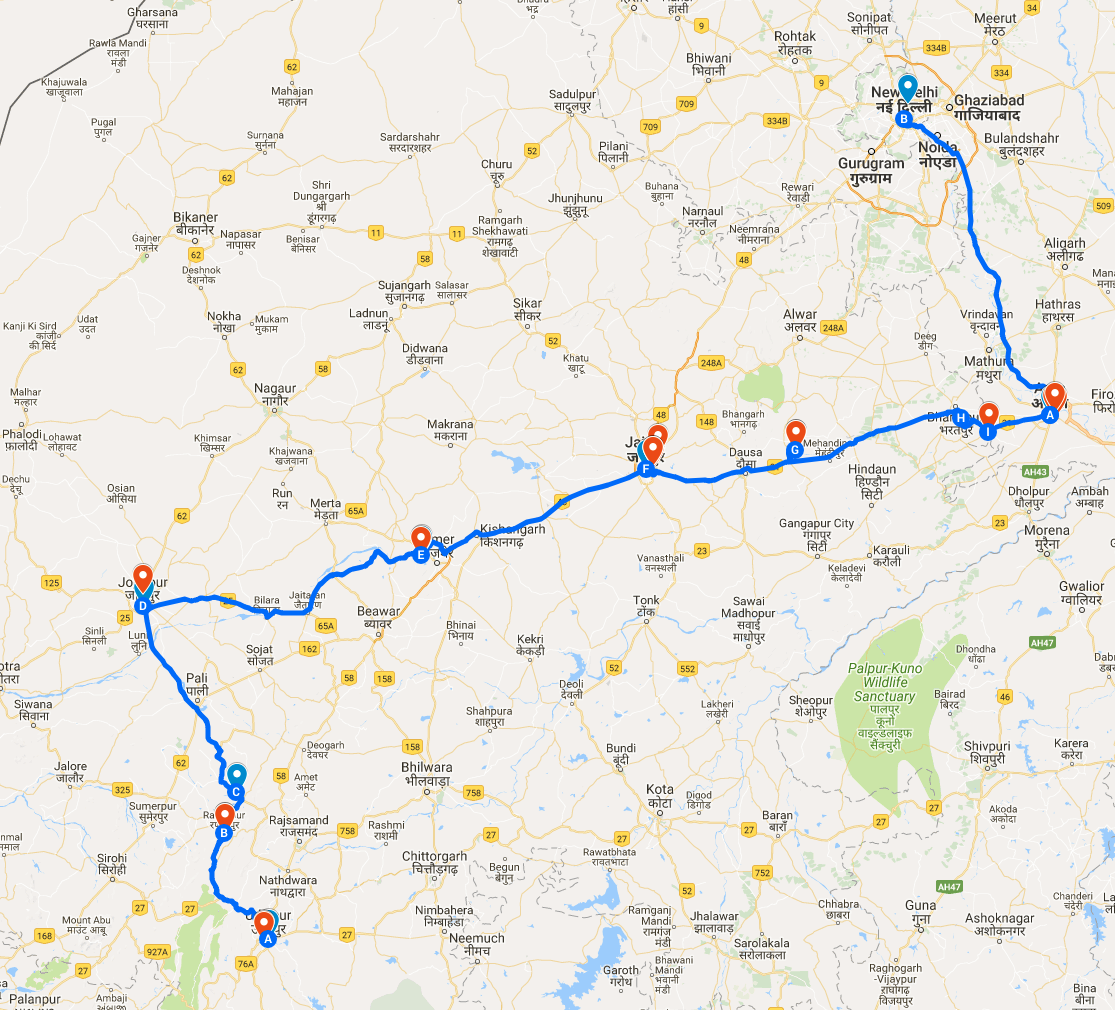 Due to some time constraints we only had 12 days for this trip. It was doable, but probably more relaxing if you add a few more (14 would have been perfect). If you have more time you should also consider adding Jaisalmer and Bikaner to your itinerary.
Highlights
We arrived in India, in Delhi in the middle of the night (2:30 AM), and took a domestic flight to Udaipur a few hours later. Where we started our journey.
1. Udaipur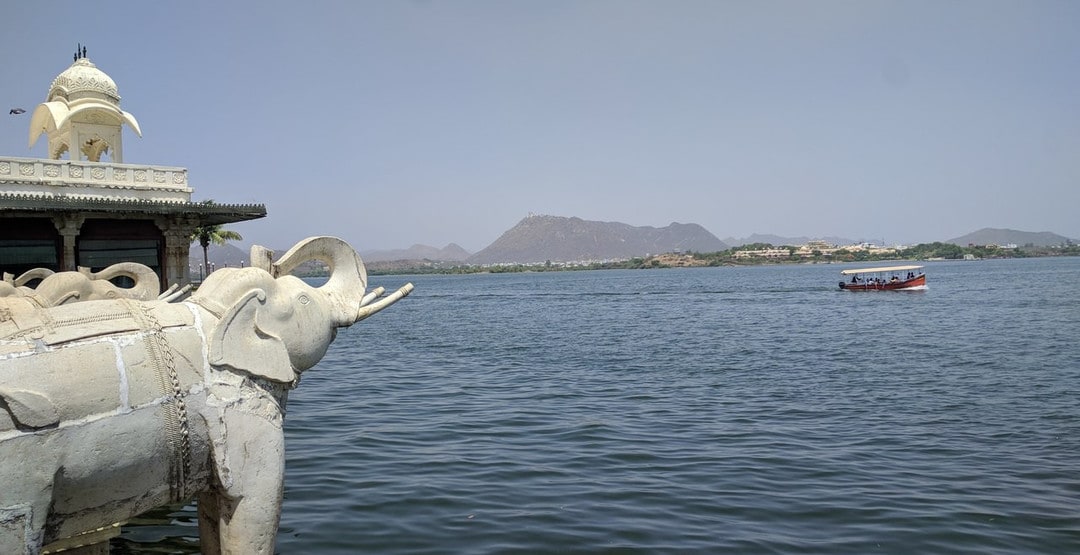 While India can be a quite a shock for first timers, Udaipur, the city of lakes, seems to be a perfect entry to ease your way into the Indian way of life.
It is an easy going city, with lots of helpful people, especially if you compare it to Agra and Delhi.
Definitely visit the City Palace, Jag Mandir and the Jagdish Temple. Take a stroll through the Sindhi Bazar and go look at the Taj Lake Palace
The Taj Lake Palace is a very expensive high-end hotel that you cant visit unless you stay there. However, when you take the boat to Jag Mandir, or dine on top of a rooftop restaurant overseeing the lake, you get an nice view of this beautiful palace.
For us personally, the biggest highlight of Udaipur was witnessing the awakening and flight of the mega-bats who spend their day hanging from the trees around the lakes. And when the sun goes down, they start coming out by the thousands and flying in huge amounts around the lakes. The best place to enjoy this, is on a rooftop restaurant overseeing the lake during sunset while enjoying a tasty meal.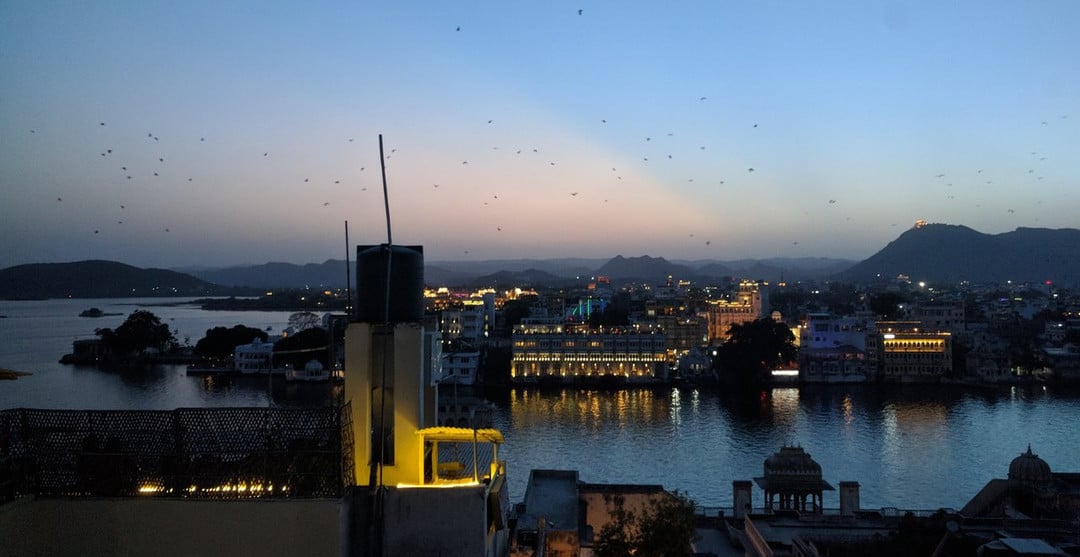 Recommended stay: at least 2 days.
2. Ranakpur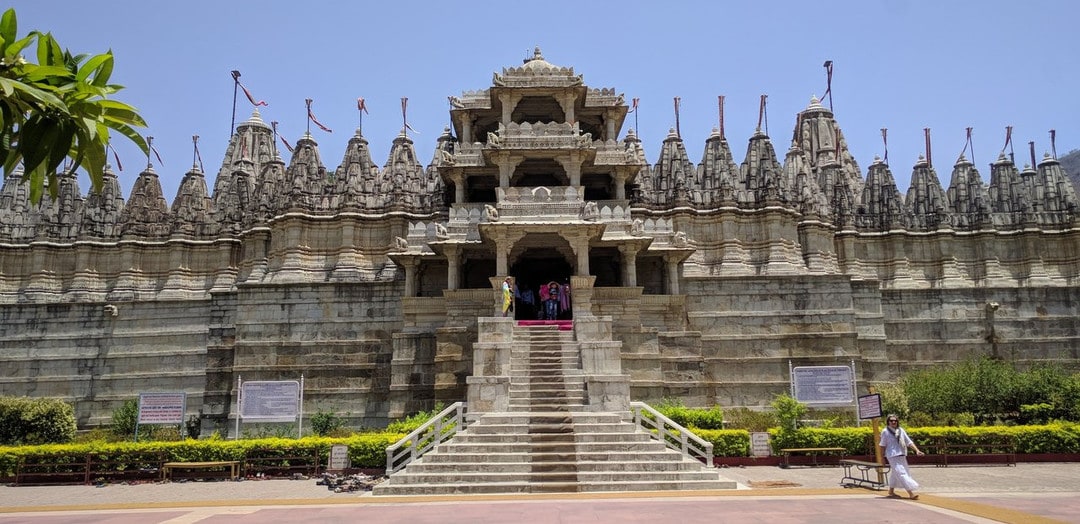 On your way to Jodhpur this beautiful Jain temple is a must visit place. It is located in a small and peaceful village which doesn't have a lot more to offer than the temple itself.
The temple has a strict dress code, legs and shoulders should be covered, no shoes allowed and leather items are also forbidden inside (think of belts, wallets, ...).
No food and drinks allowed either.
Around the temple there are plenty of fun and playful monkeys. Keep an eye out for them.
3. Narlai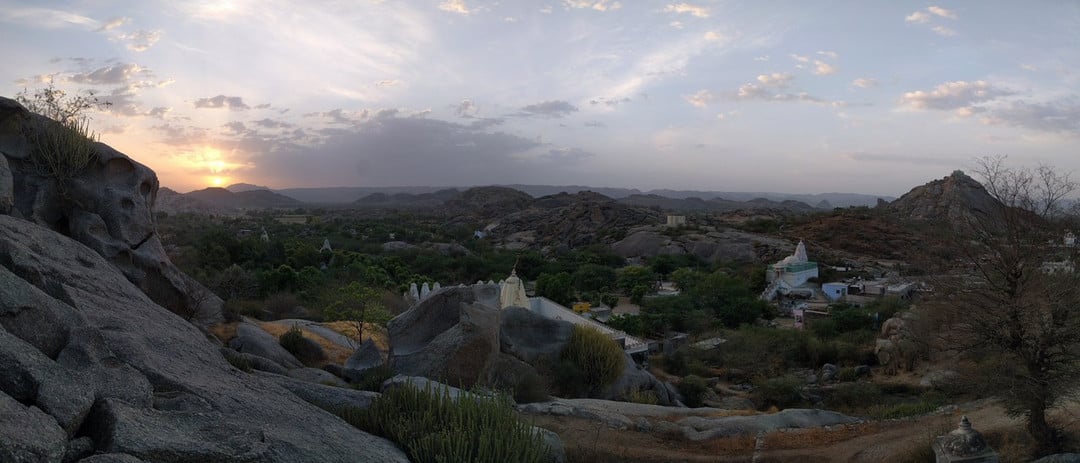 While Narlai isn't very well known, this small village halfway to Jodhpur is well worth the stop and an excellent place to spend the night.
Normally I don't mention hotels as they aren't very important to me, but an honorable mention to the Rawla, it is easily one of the most beautiful hotels I have ever stayed, located in a renovated fort in the center of town. With excellent food, great amenities and friendly staff. Although the place isn't cheap, it is still arguably worth the money, considering you get a lot for what you pay, and the hotel supposedly does community support programs in the village.
One thing you should absolutely do here is get up early in the morning and hike up Hathi narlai mountain to the white elephant on top, so you can witness the sunrise and enjoy the stunning views over the valley and town. You can perfectly do this by yourself, but if you prefer, the Rawla also provides a complementary guide which will carry tea and biscuits. In total this should take about 1h 30m.
Recommended stay: 1 day (in case you want to relax some extra time, extend your stay at the hotel, it is worth it).
4. Jodhpur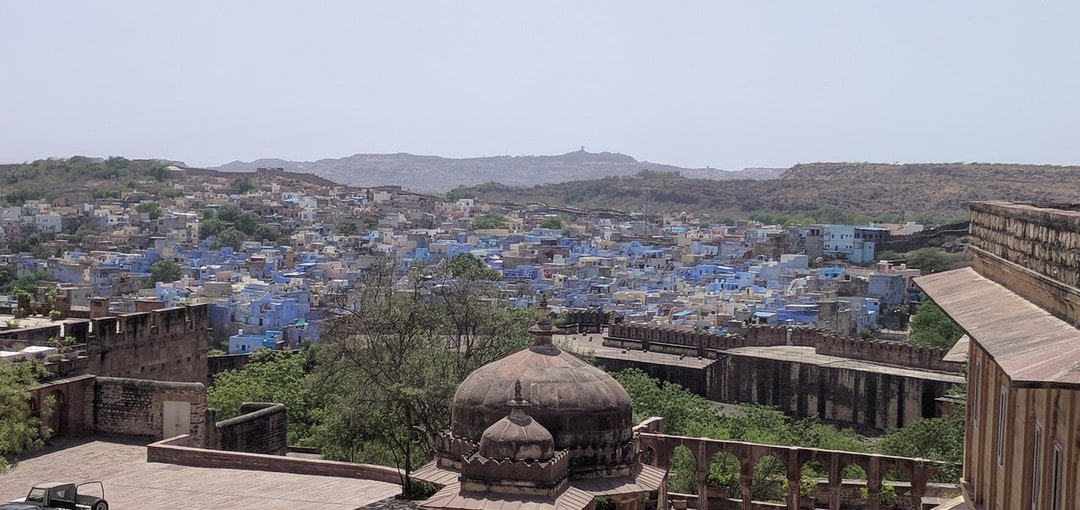 The first large city along this route, Jodhpur is known as the Blue city, this because in the old town most of the houses are painted blue. You can see this beautifully from Mehrangarh Fort which oversees the old town.
You should also definitely visit Jaswant Thada, and go to the Ghanta Ghar which has the busy Sadar Market surrounding it. If you want you can also visit to the Umaid Bhawan Palace where the current Maharadja of Jodhpur still lives.
Recommended stay: at least 2 days.
5. Pushkar
The drive to Jaipur is long, and halfway you can visit the only temple dedicated to Brahma the Hindu creator god in Pushkar, the Brahmani Temple.
Check the calendar because every year there is also a popular Camel Fair in Pushkar in November which should be quite the event.
Be warned: the priests and the "free" guides and students in the temple are master manipulators that can easily trick you in "donating" thousands of Rupees, they will try to separate you from your travel companions. The temple can be visited free of charge, just say no to all proposals, or get up and walk away if you're not feeling comfortable.
6. Jaipur

The next big city along this route is Jaipur, and has some beautiful places to visit. A little north of the city you should visit Amber Fort (aka Amer Fort), while driving to the fort, take a quick stop at Jal Mahal.
Inside the city definitely go visit Jantar Mantar this place has a collection of peculiar structures built to study astronomy. Not far from this place, Hawa Mahal is also worth the stop and if you cant get enough of palaces the City Palace is just around the corner.
Recommended stay: at least 2 days.
7. Chand Baori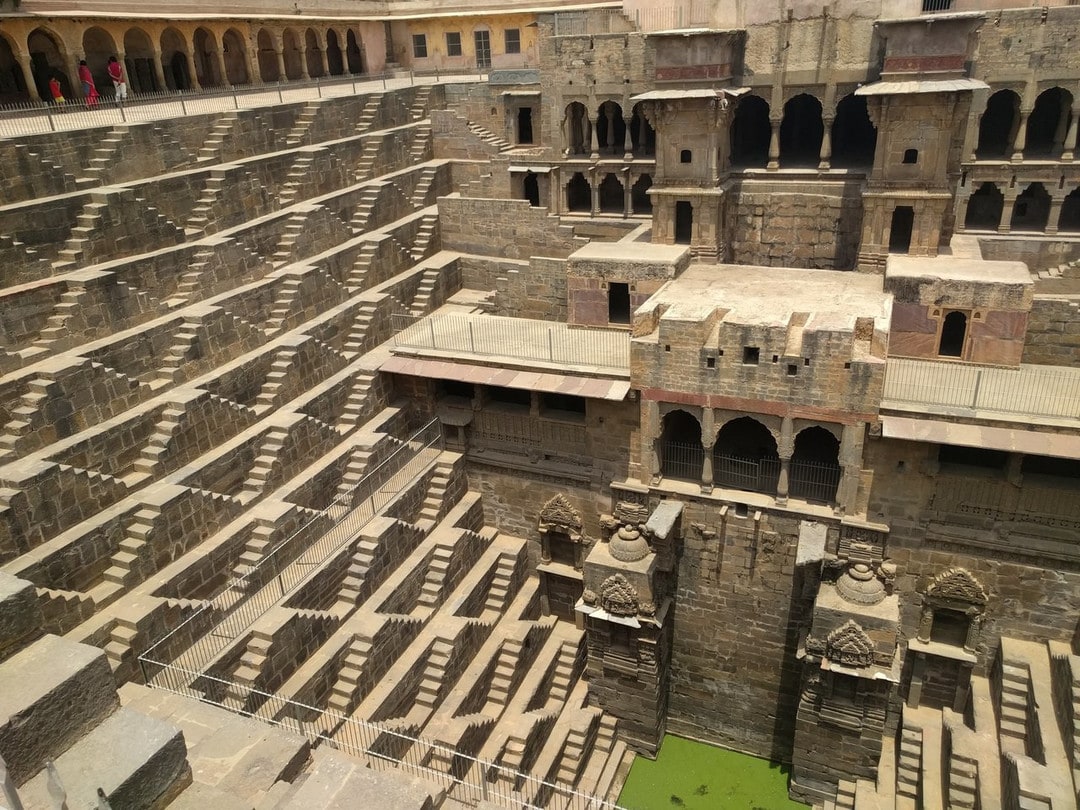 The drive to Agra is long, but fortunately there are quite a few stops along the route. Starting with the Chand Baori Step Well in Abhaneri. This step well is one of the largest of its kind in India, and can be visited free of charge.
8. Keoladeo National Park

This national park was the first National Park of India, and known for the large and diverse population of birds. Keep in mind that your ticket is only valid for the entry in the park, and if you want enjoy the full experience, you should calculate the cost of a guide (₹250 per hour) and a Rickshaw driver (₹100 per hour). The very minimum time you can visit is 1h 30m because of the distance and the slow moving rickshaws. But I recommend 2 hours.
9. Fatehpur Sikri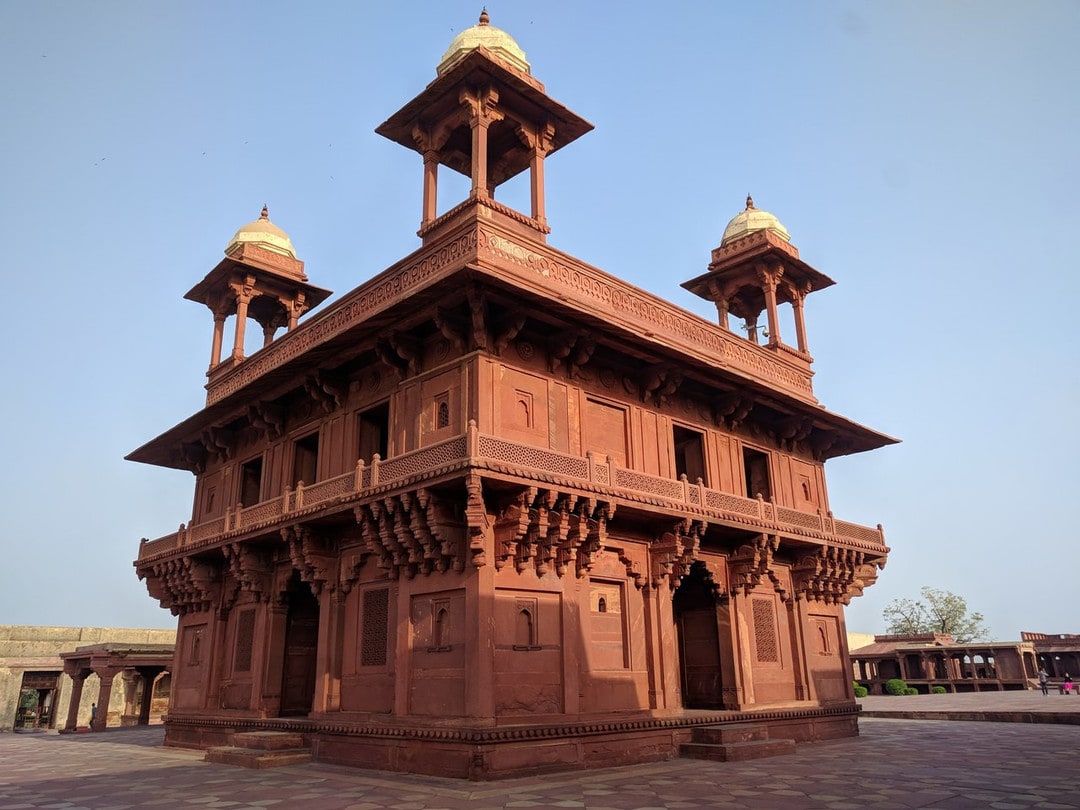 The last stop on your way to Agra is Fatehpur Sikri this Fort is large but very impressive. It is devided in a free part (the Mosque) and a paying part (the fort). Both are worth the visit. You will notice that the fort has influences from all different religions.
10. Agra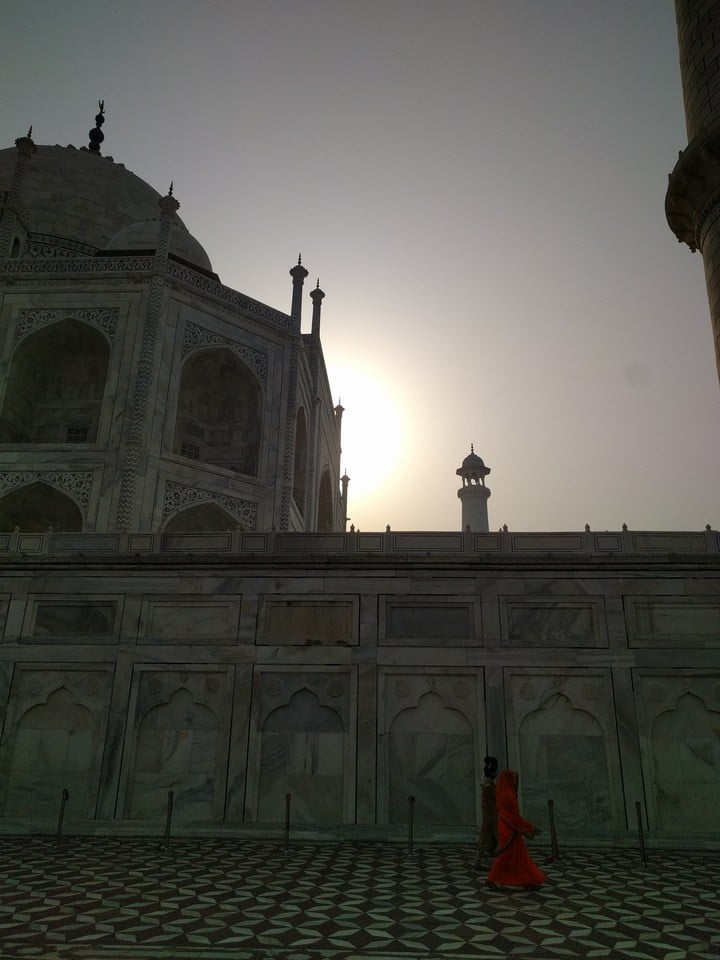 Once you arrive in Agra, you will immediately notice this city is not so laid back as the last few cities you have visited. Even for Indian standards the traffic is crazy, the city is loud and very crowded.
The obvious world famous Taj Mahal is arguably the most important sight in India, but other sights include Agra Fort, and Itmad-ud-Daula (aka Baby Taj)
Try to visit the Taj Mahal early in the morning for Sunrise, the sun rises beautifully along the monument, and the crowds are still manageable.
Recommended stay: at least 1 day (consider an extra day for a more relaxed visit).
11. Delhi

Delhi is the largest city of the country, and the 3rd largest city in the world. And you will notice. There are people everywhere any time of the day.
Notable sights in the city are: Jama Masjid a beautiful mosque where you can climb to the top of one of the minarets and enjoy a stunning sight of the city, Gurudwara Bangla Sahib and/or Gurdwara Sis Ganj Sahib, 2 beautiful Sikh temples, where you can enjoy the hospitality of the Sikh both free of charge (although donations are accepted), India Gate, Humayun's Tomb, Raj Ghat (the grave of Ghandi) and a lot more, go through your travel guide for more inspiration.
Delhi is huge, and getting around can be challenging, the traffic is crazy, many streets do not have names or aren't even on the maps. However the metro is very good, it is modern, clean, safe and not expensive.
Recommended stay: at least 3 days, but honestly you can stay as long as you want and never get tired of things to do and see.
Tips
Here I will try to go over a few tips to hopefully make your India visit more enjoyable.
1. Visum
Most nationalities require a visum to enter India. You can request this yourself on https://indianvisaonline.gov.in, and will cost you about 40 EUR per person. This procedure is rather quick and should normally take 4 working days.
Make sure to print out your approved visum and bring it with you to the airport, as you can be denied boarding if you can't provide proof of visum.
2. SIM
This is more a personal preference, as I enjoy the ease of looking up information myself online, and in India it is the perfect medium to request taxis on (more on that later). Airtel is the carrier in India which provides the best general coverage.
And at the time of writing it cost me about 5 EUR for 28 days unlimited calls and texts, and 1 GB per day.
The SIM card will normally take 24 hours to activate once you have requested it. When you go to an Airtel store to request a SIM card, make sure you carry a copy of your passport (or your passport), a passport photo, and the address of your hotel.
3. Hotels
One of the best tips I can give you for India, is try to find a hotel that is quite luxurious, the price is often many times lower than the same room you would have in another country. While you can find very cheap places to stay, it is very enjoyable to have a little oasis in the busy and hectic India every night.
4. Traffic
Even though nothing in the law is stopping you to rent a car and drive yourself in India, I would strongly advise against it. The traffic is nothing short of pure chaos in the cities and arguably one of the more challenging places to drive in the world. Roads often dont even have a name, or arent anywhere on the map.
Besides you can easily find taxi companies who will rent out a car plus driver with everything included (gasoline, taxes, tolls, parking, overnight stay and meals for the driver, ...) for a few days. To give you an idea, it cost us a little under 300 EUR for 6 days all included.
5. Culture Shock
India can be quite the shock, there is a lot of poverty, noise, crowds., ... But don't get scared, at the same time it is beautiful, very colorful, tasty food, rich culture, ...
Buy yourself a good travel guide and read through it before going. I am a big fan of the Lonely Planet travel guides, and swear by them for every destination.
6. Hassling
In shops you will often not find any price tags, with good reason, locals will debate prices and are natural born deal makers. Keep in mind that as a foreigner if you ask for the price of something, the initial price will be at least 3 times the price you should actually pay.
7. Taxis
Similar to hassling, the price of taxis is often 3 times (or more) the price you should pay. Finding a taxi driver that is willing to drive with a meter is equally challenging.
To make this easy and enjoyable, use the app Ola Cabs on your smartphone, which is the Indian version of Uber (although Uber is available in India, Ola is more widely used and cheaper). You must set a pickup and destination, you will get a price, and a driver will come and pick you up. You can just pay in cash to the driver. During our stay not once did a driver make a fuss or be difficult when using Ola, all went very smoothly.
8. Selfies and Pictures with locals
For some reason (I have heard multiple explanations) locals enjoy selfies and pictures with foreigners, and you will be asked multiple times a day for pictures. Nothing bad is meant by this, and they will be quick and easy. However, sometimes if you agree to one picture, all of a sudden 10 other people will be lined up for a picture with you.
Sometimes this can be a little annoying, but just enjoy and experience how celebrities go through life all the time. I had one rule regarding the pictures, every time someone wanted a picture with me, I in turn wanted a picture with them. These pictures turned out to be fantastic, and a beautiful souvenir of our trip.
9. Food and drinks
Be very careful with food and drinks in India. Only drink bottled water, even brush your teeth with bottled water, and avoid ice cubes in your drinks.
If you go out to eat, I would advise against eating meat. India is very well known for the rich veggie culture, just enjoy it as it will limit the risk of unsafe food. Try to only eat cooked vegetables and avoid raw ingredients.
Use your travel guide, trip advisor, read reviews, ask for advice in your hotels and only eat in upstanding clean places. But if you decide to try street food, only eat in places where a lot of locals are eating, and there are fast moving dishes.
Even if you are very careful, sometimes you can get a bacterial infection often from something small, this can understandably ruin your trip, as you can be tied to a toilet. Bring diarrhea medication, activated charcoal (in case of food poisoning) and antibiotics (go and see a doctor for advice).
10. Pollution
I'll just come out and say it, India is dirty. Trash everywhere, polluted rivers (never, ever swim in a river!), smog and lots of dirty traffic.
If you are walking through a city you will often switch between delicious and foul smells in a matter of seconds.
11. Airports
The airports in India are busy, very busy, come well in advance because you will loose a lot of time just queuing. I would say 3 to 4 hours before departure for international flights, and 2 to 3 hours for domestic flights.
In Delhi and Banagalore (possibly others) you have to show your ticket and passport before you can enter the airport (this can be done on your smartphone), and on busy days, you will spend a considerable amount of time queuing here before you even enter the airport. Keep in mind that you still have to check-in (or drop your baggage) and go through the security check.
12. Language
Although a lot of languages are spoken in India, you can get around very easily with English. All important street signs and information is mostly displayed in both Hindi and English. Everywhere in hotels and decent restaurants English will be the main language spoken.