USA mid-west 2017
A quick overview of our trip to the USA in 2017 to see the Total Solar Eclipse, and all the places we visited along the way.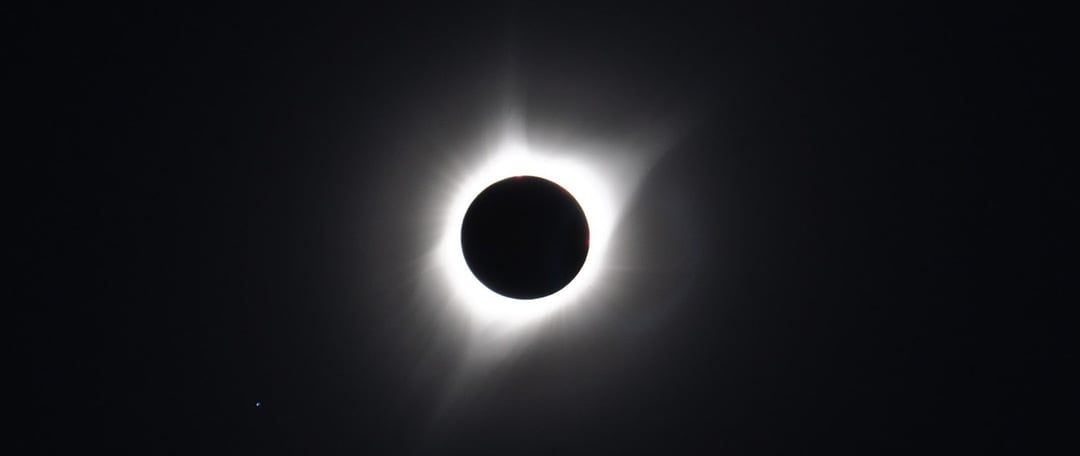 After my brother-in-law spoke to me about a full solar eclipse he was lucky enough to witness in Longyearbyen, Svalbard in 2015. I made up my mind to go see one for myself. Turns out that 2 years later there was one in a very accessible location. The entire continental USA.
Only going to the USA for an Eclipse seemed a waste, so I built a trip around it.
Ever since, friends and family have been asking us about our route, and because I got tired explaining it every time, here is my route and highlights.
The Route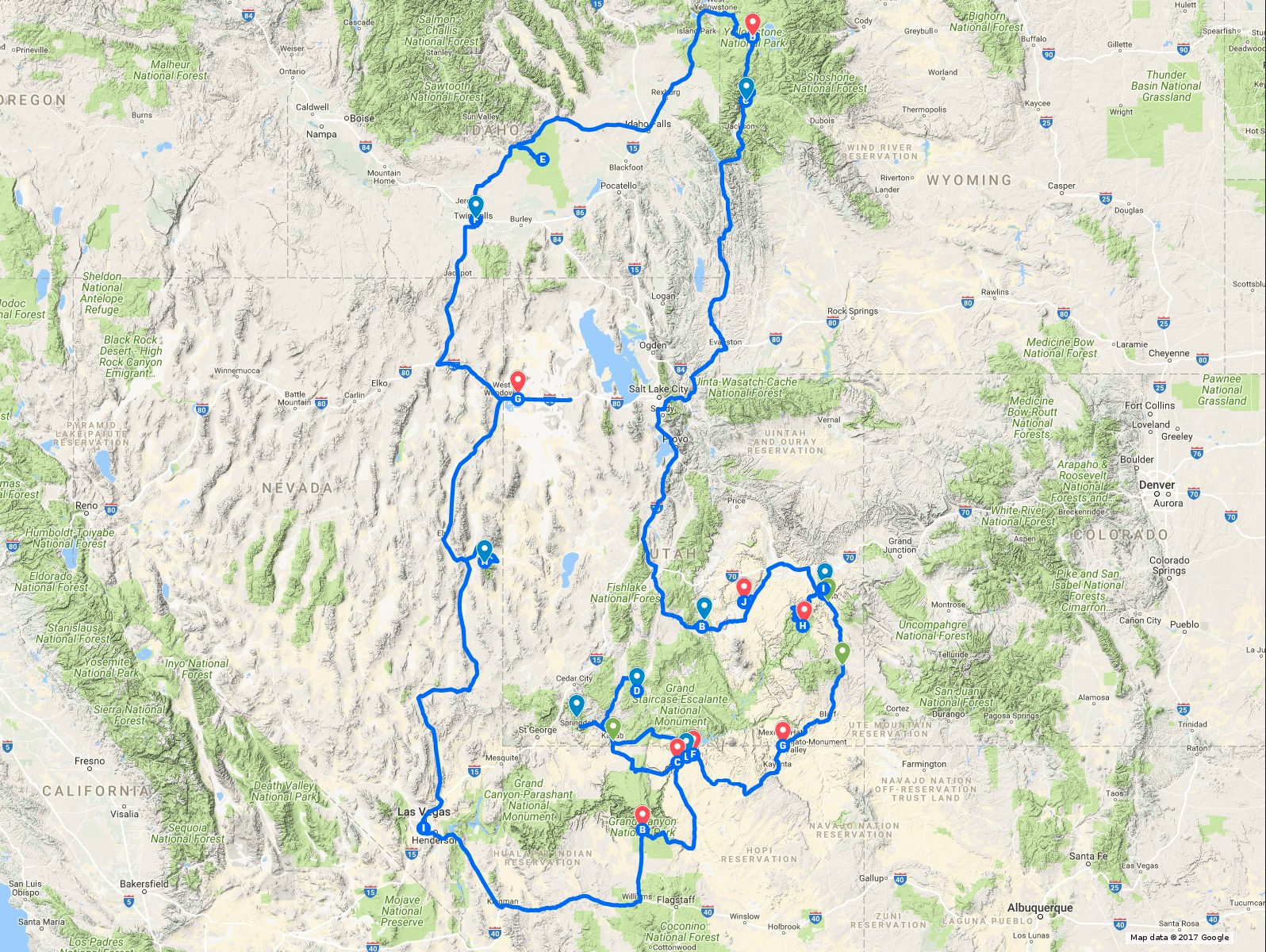 Firstly, you'll notice some obvious classics are missing from this route. This is because we had limited time for this part of the journey (there was a second part on the east-coast which I wont get into), and we had been to the west-coast before, where we did the classics (like LA, San Francisco, Yosemite, Kings Canyon, Sequoia, Death Valley, ...), your typical 'lets-go-to-the-USA-for-the-first-time-trip'. If people are interested in that, send me a message and I might find the time to share it.
Secondly, we did this in 2 weeks, which is quite a fast pace, and definitely not relaxing for the average traveler. Because of this, we didn't do any long hikes and didn't stay in one location for more than 2 days.
Lastly, the last part of our route I wouldn't recommend, it was a long boring drive back to Las Vegas. Consider alterations if you don't want to spend 4 hours driving through next to nothing.
Highlights
Below I'll go over the different highlights in the order we visited them. You'll probably notice the absence of Las Vegas, it is because for me, its far from a highlight, it was a convenient located international airport in a city full of madness.
1. Grand Canyon


It was our second time visiting the Grand Canyon, the first time we took a helicopter tour over the canyon. And this time, we just visited it by car, and did a small hike. Arguably I liked the last time better, you get a far better idea about the size of the canyon, and it doesn't cost as much.
We visited the grand canyon in the afternoon to witness the sunset, and it was well worth it.
I would recommend driving into Grand Canyon Village, and driving your car all the way up to Bright Angel Trailhead where the road will be closed for regular vehicles but accessible for busses, park your car somewhere. Go to the bus stop, and take the bus all the way up to Hermit's Rest, then hike back to the bus stop you started at.
This is a very beautiful hike along the rim and especially memorable if you can catch the sunset during your hike. In case you get tired, there are plenty of bus stops along the road where you can take the bus back.
2. Marble Canyon


This is not really a place to visit, more than it is a beautiful drive to a nice little town, Kanab, a good place to spend a few nights to visit the next 2 highlights.
3. Bryce Canyon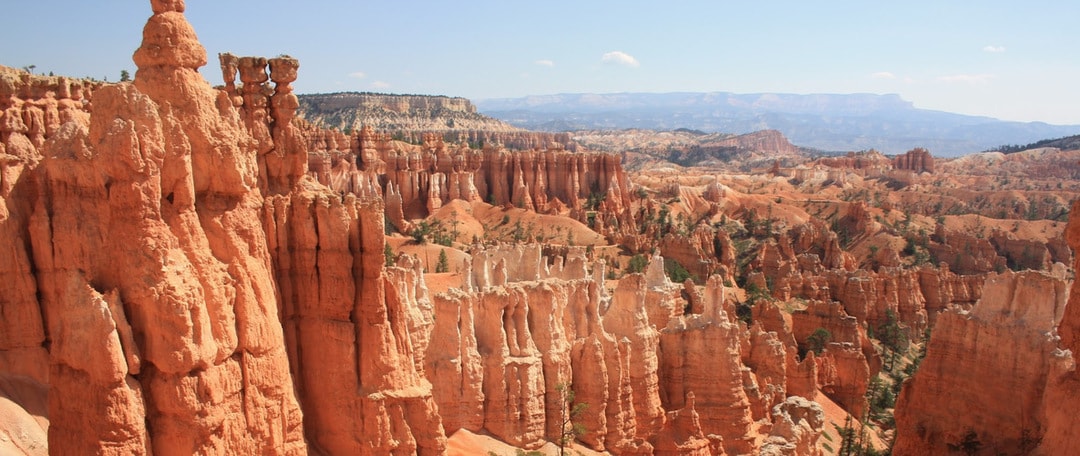 Bryce canyon is beautiful, its not very big and perfectly doable in a few hours. I recommend getting up early and visiting Bryce Canyon for the sunrise, as the sun is on the best side of the canyon in the morning.
4. Zion National Park


Zion is quite large, and the hike to weeping rock is worth it. You can drive through it if you decide to take a different route. Keep your eyes open for wildlife as there are Mountain Lions, Big Horn Sheep, Condors, ...
5. Horseshoe Bend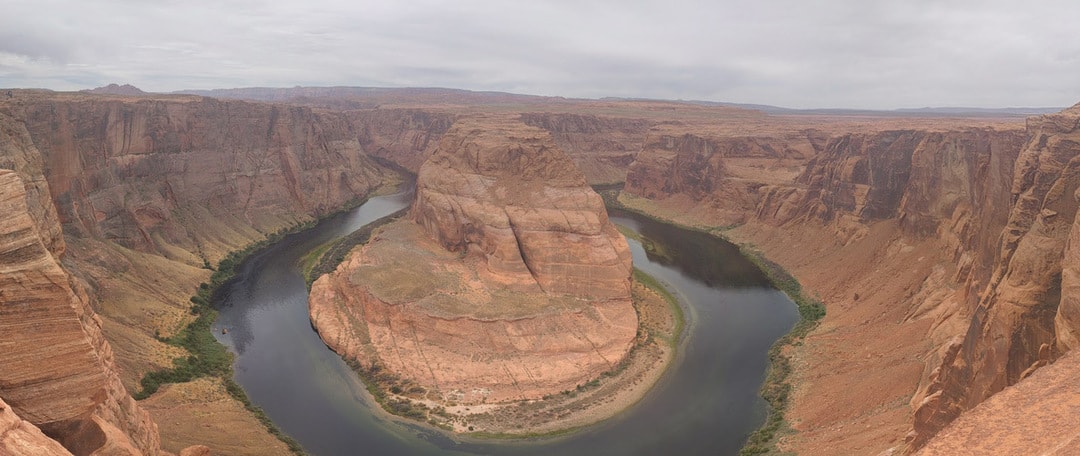 This is an easy spot to visit, it is along the route and walking distance from the designated parking. But keep in mind, things you often don't see on pictures of Horseshoe Bend, is the 20000 other people doing the exact same thing. It is beautiful, and you should definitely stop and go take a look, but you won't be the only one.
6. Antelope Canyon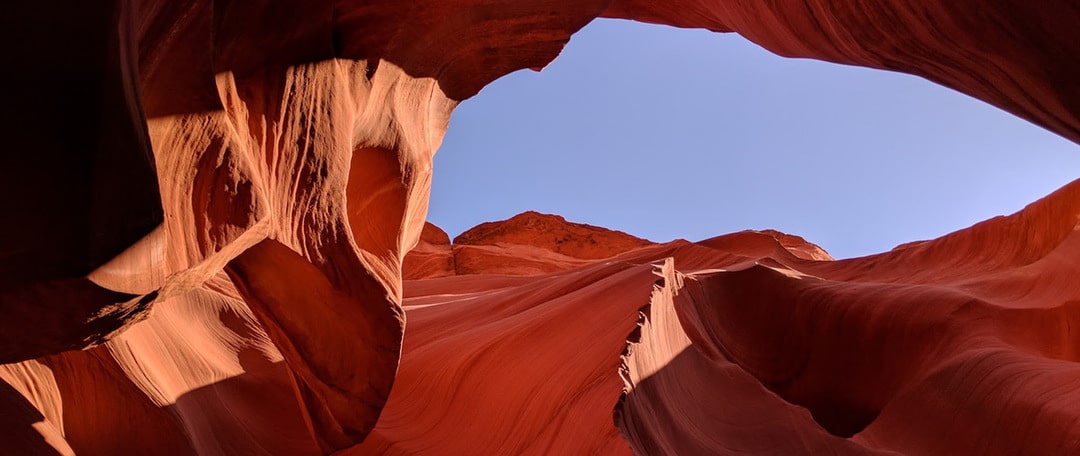 Antelope was one of my personal favorites of the trip. The canyon is managed by the Navajo, and thus not part of the National Parks Service, because of that you'll pay a separate entrance fee.
You have 2 parts of the canyon, Upper, and Lower Antelope Canyon. We did the lower part with the company Dixie Ellis' Lower Antelope Canyon tours. You can only enter it guided, but it is well managed. You go in little groups of about 10 - 15 people at once, together with a native guide who will point out all the remarkable parts of the canyon.
Make a reservation in advance, its a very popular destination and is often fully booked. You will get an expected hour when your tour will leave, so you don't have to wait hours for your turn, and you can perfectly plan ahead. The canyon is especially beautiful with a clear blue sky. The cost of the tour is about $35 per person, but well worth it! You'll regret it if you decide not to go.
7. Monument Valley


Another absolute stunner. This park is also managed by Navajo and requires a separate entrance fee, in 2017 this was $15 per car.
You have a driving tour in the valley which is absolutely beautiful, it is on sandy roads, but very doable with a normal car under dry conditions. Take your time as you will be in awe half of the time.
Keep in mind that the drive from Page takes some time, and the drive to the next village also takes some time. If you want, there is a hotel in the park
8. Arches National Park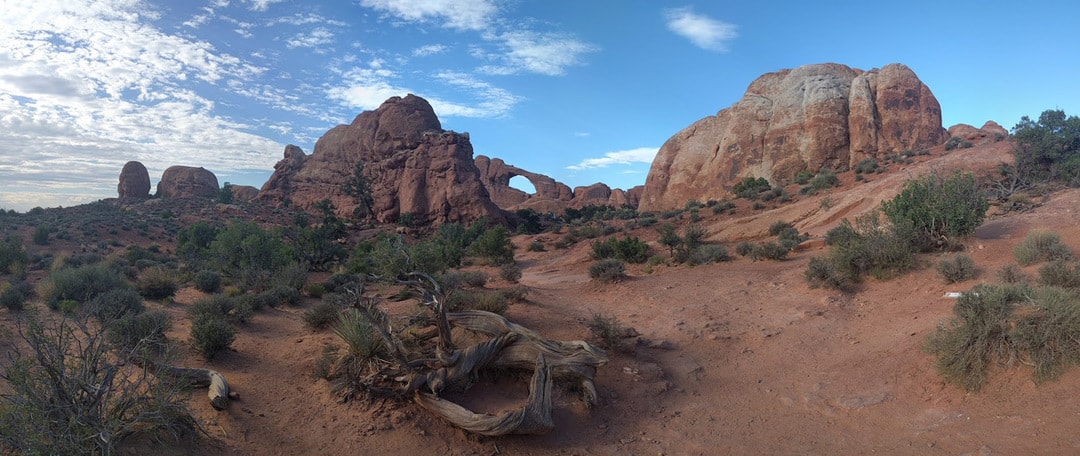 Unfortunately for us, the park was under maintenance when we were there, and half of the park was inaccessible to the public. Even though we didn't see all we wanted, it was well worth the stop. The sunrise should be stunning, but for us we couldn't do it because of the maintenance.
Moab is a nice town to stay in while visiting both Arches and Canyonlands, it has everything you want, and just a few minutes drive from both of the national parks entrances.
9. Canyonlands National Park


Again an absolute highlight, This is the largest park of Utah, but often forgotten. We were there during high season, but it was very calm. Take your time, hike up to Mesa arch, Buck Canyon overlook, White Rim overlook and Upheaval Dome and fall in love with the stunning views.
10. Goblin Valley State Park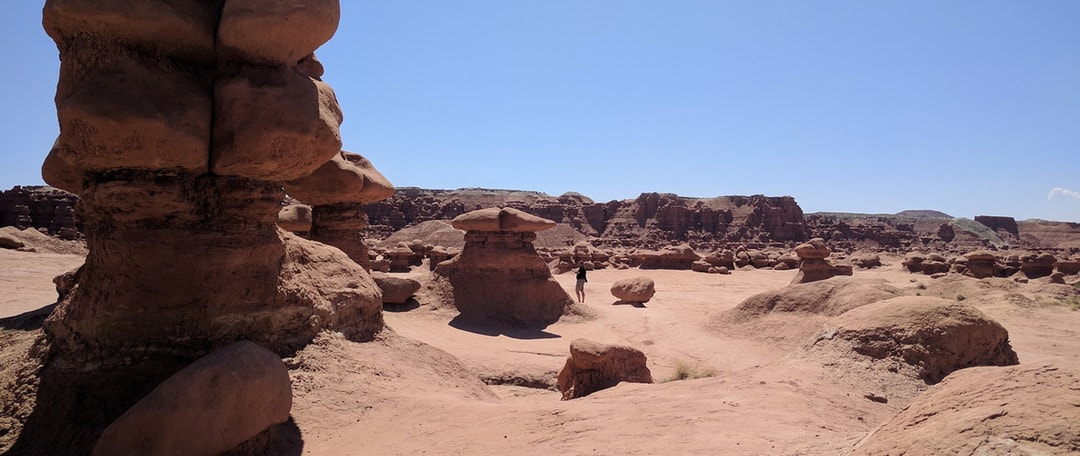 This park is not big, but very unique, it is a state park, which you cant enter with your national parks pass, but the entrance fee is very small as the park isn't very well known.
Supposedly this park is also a great spot for nighttime star gazing, check the calendar online for events.
11. Capitol Reef National Park


This national park is very large, mostly accessible by car and a beautiful park to drive through up to your next destination. It is more green than the last couple of parks, and a great place to picnic. Not a lot of amenities, so take your picnic with you.
The drive up to the next point is long, in between you have Salt Lake City, but apart from the Mormon culture (if you're into that), there isn't a lot that meets the eye, it can however be a nice change of scenery from nature to a city
12. Grand Teton National Park


This park is mostly along the Teton mountain range, and absolutely beautiful to drive through up to Yellowstone, there are Bison and other wildlife to spot. So binoculars can be a great add-on to your gear.
13. Yellowstone National Park


The first and thus oldest National Park in the world. This is a breathtaking and diverse park to visit. You have Geysers, Hot Springs, Limestone Terraces, wildlife, ...
One thing we underestimated was the size of the park, it is gigantic! Take your time, I would recommend at least 3 days as the highlights in the park are quite far away from each other, and due to the popularity and wildlife crossing the streets the traffic can be slow. You can spend the night in the park, or just outside in West Yellowstone.
Bring binoculars!
14. Craters of the Moon National Monument


Another very different change of scenery from the rest, this national monument (which can be entered with the NPS pass) is a park filled with Solidified Lava from an eruption many thousands of years ago. This is a rather calm park, and not very touristy but well worth the visit.
15. Evel Knievel Snake River Canyon Jump Site


Because you are driving through Twin Falls (or possibly spending the night), you can quickly go visit the jump site where Evel Knievel jumped over the Snake River.
It is a beautiful park where you can calmly picnic and enjoy the 2 falls right in front of you.
16. Bonneville Salt Flats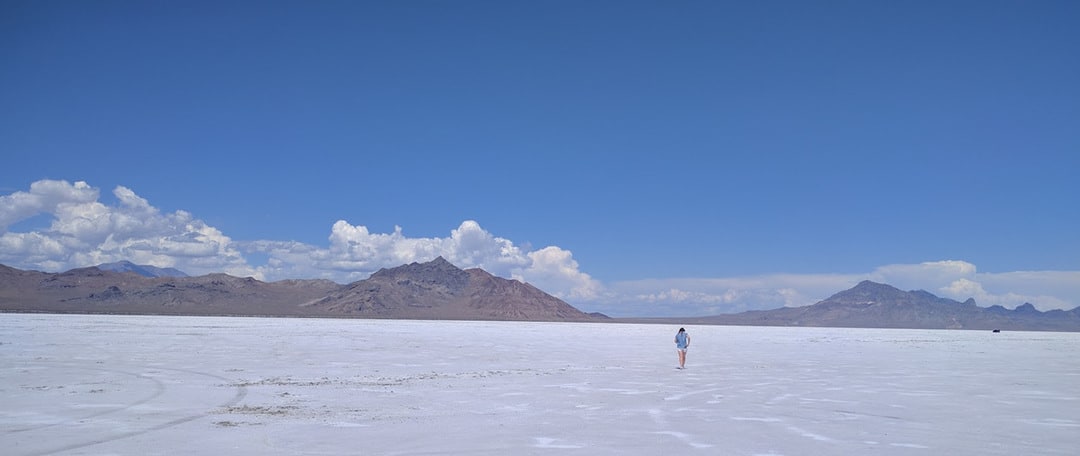 If you thought you had seen the diversity of Midwest USA, you haven't visited Bonneville Salt Flats, another completely different scenery, but again absolutely beautiful.
This is the place where a lot of land based speed records have been driven. A definite must-visit place.
17. Great Basin National Park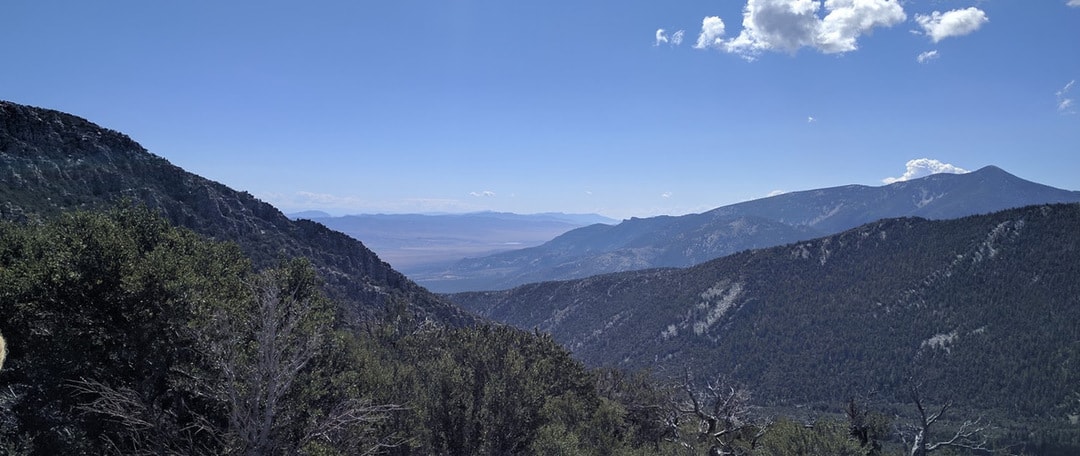 Halfway between Twin Falls and Las vegas lays Great Basin National Park, I wouldn't say you should absolutely visit this, but if you decide to take this route, the drive to Vegas is long and boring, and this place is a nice oasis in the middle of nowhere.
Other tips
National Parks
You will be visiting a lot of national parks, to save yourself some money, and make a swift entrance, buy yourself a national park year pass. As it will be a lot cheaper than separate entrance fees.
Up-selling
Keep in mind you're traveling to the USA, the most capitalist country in the world, where everybody will be trying to sell you something, half of the country lives on commission and will want to recommend something bigger or better.
For example you will rent a car, and when you go and pick it up, the very friendly clerk will be recommending you an upgrade, a larger car, a better engine, whatever. You don't need it, stick to your original plan, because it can end up costing you a few 100 dollars extra.
This, and a lot of other small extra costs can total to quite a lot of money if you don't watch out.
Sleeping arrangements
You don't necessarily have to book very long beforehand, the entire country is filled with Hotels, Motels, Inns, Bed & Breakfasts, ... You can even get along with finding places to sleep while already traveling.
Inns
Inns are mostly great value for money, they are relatively cheap, and come with clean rooms and a breakfast most of the time. This is especially interesting if you are traveling with 4 people, as a standard room is often 2 Queen size beds for the average price of $120 per room. I found both Best Western and Holiday Inn to be the best.
Casinos
Everywhere in Nevada, you will find Casinos, while it is often horrid and depressing to see people gambling away their money, or seeing the poverty of people who lost everything, mostly you can spend the night dirt cheap in Casino hotels, this will likely be without breakfast.
Just keep in mind that some casino hotels charge a Resort Fee on top of the regular room rate, which is often not advertised and a complete surprise when you go and check-in, this can be as much or even higher than the room rate, and isn't calculated in the price when booking online, do your homework and check the resort fees per hotels before making reservations.
Food
Although you will find places to eat everywhere, eating healthy will require some extra leg work, and can often be a lot more expensive than you're used to, all the while unhealthy food can be dirt cheap ($5 for 10 donuts anyone?).
Mobile cellphone and data coverage
I do recommend buying a SIM card, as it is worth the money (say around $40 for a few gigabytes) to have data connectivity while traveling. Navigating, up-to-date traffic information; easily find (cheapest) gas stations nearby, places to eat, supermarkets, your hotels. And can call for hotel reservations without having to pay exuberant roaming charges or finding public wifi hotspots.
While the USA generally has good coverage, keep in mind that outside of cities in the mid-west it is often difficult to get cellphone coverage (let alone data coverage) because the national parks and surrounding areas are very sparsely populated and don't have the infrastructure in place for good coverage.